E400 E
The E400 E is designed for polishing and planarization of single wafers with diameters between 1″ and 4″. A new carrier technology opens the range to smaller sizes but also any shape products: square: 10x10mm, quarter of wafers…
The optimal use of E400 E is in the field of research and development application, new material development,….
The E400 offers 10 process steps with specific set of parameters. The tool allows manual loading with automatic polishing control. Control is done through a touch screen directly in front of the user.
Our standard wafer mounting uses vacuum and back pressure but any kind of mounting is possible : wax, templates.
Special carrier arrangement can be realized to fit to customers' requirements.
The tool is equipped with an automatic conditioning device.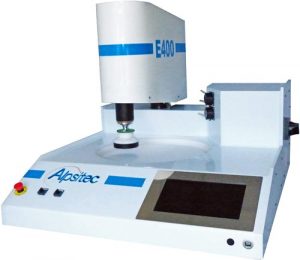 Front side :
The control screen is located in front of the user, on the right, on the left side buttons for loading and unloading and water switch for rinsing the wafer just after process. A usb connector is placed there for saving , or down loading recipes or process data.
For easy access the slurry pumps are integrated on the back, enabling a convenient hook up for slurry supply.
Control cabinet :
All the elements are integrated inside the tool. Nothing except slurry tanks is outside
Back side :
Connection to facilities is located on the back side of the tool. Interface to lab network is also placed on the back side
The stainless steel carrier is designed for vacuum and back pressure functions.
The carrier is equipped with a Delrin retaining-ring. The wafer is held by vacuum and is protected by poromeric pads on the rear.
Adjustable process parameters, each step includes
– Slurry flow rates (up to 2 slurries)
– Head and platen speed and direction
– Down force
– Back pressure
– Duration
– sweeping area
– Real time parameters display
– Soft transition from step to step
The E400 E machine is a new tool. Its development is based on the 15 years of experience of Alpsitec in the field of CMP and tool control. Like for our other tools, specific designs can be realized to respond to customers' demands that cannot be satisfied with the existing solutions.
The tool control offers the same characteristics as those of our bigger tools:
External polishing recipe edition possibility
10 process steps
In situ conditioning activated or not at each step (under development)
Possibility to raise the carrier during the process for conditioning while the product is not on the polishing pad
Sweeping range defined for each step
Soft transition of process parameters between each step and its following one
Various technologies carriers:
mono wafers or multi wafers,
standard or low pressure version,
Wax, template or insert mounting
Various conditioning tool types
Quick exchange of parts dedicated to process : platen, carrier and conditioning head (time required 2min).
Perfect for sharing the machine between various teams and running various processes with different consumables
A compact tool: a table top tool.
The goal of that tool is to propose a real CMP tool for small samples.