E460
Advantages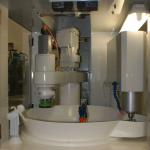 Quick exchange of parts dedicated to process: platen, carrier and conditioning head (time required 2min).
Perfect for sharing the machine between various teams.
An optimum ratio service / costs
A fast and simple tool preparation for process
Solutions for the polishing of small-sized samples: 10mmx10mm, 15mmx15mm, 1 ", quarter of 2 ". Any shape can be realized
A recognized robustness
Using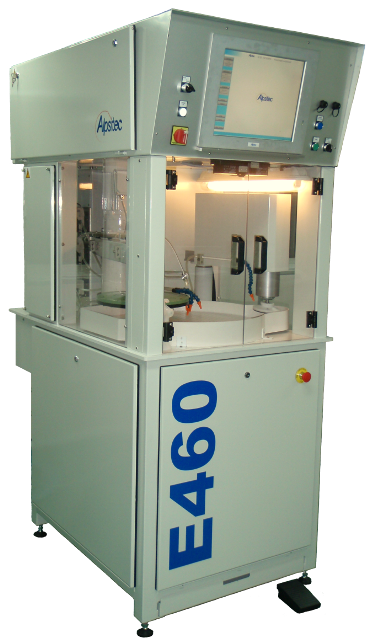 The E460 is designed for polishing and planarization of single wafers with diameters between 1″ and 8″. The optimal use of E460 is in the field of research and development application as well as small scale production requirements due to the machine's flexibility.
The number or recorded process recipes is only limited by the hard disk space
The E460 offers 10 process steps totally independent
The step parameters are checked to fit with the tool configuration limits
During process, a specific transition parameter offers a soft evolution of all the step parameters values from the present step settings to the next step settings
Loading is manual. An automatic loading option is under development
The conditioning can be used ex-situ or in-situ during selected steps of the polishing recipe
Plate, carrier and conditioning tool can be exchanged in a few seconds, making possible the sharing of the tool for different processes, different wafers sizes and different teams
The end point detection option is directly integrated in the tool control software for a better integration of that function
The tool can be connected to the internet for distant and immediate support: trouble shooting or tool use training.
Our standard wafer mounting uses inserts, vacuum and back pressure but any king of mounting is possible: wax, templates. Special carrier arrangement can be realized to fit to customers requirements.
Specifications
Operator control panel and accesses
The operator interface uses a touch screen located over the access-door of the polishing area. Functions are accessible from the touchscreen, after login of the user with password control.
Through the doors the user has access to the plate, carrier and conditioning device, and can load and unload the wafers.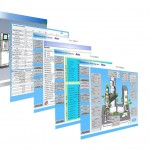 Control cabinet
It is integrated to the tool structure. It is located on top of the tool as well as on the rear.
Exhaust
2 exhausts are installed on the machine top and just near the polishing plate
Slurry pumps
Slurry pumps are installed on the back side of the tool. Standard is 2 pumps but 4 can be installed and driven by the tool controller
Options
Conditioning tools of various types, brush, diamond disk and diamond ring
Temperature regulating equipment
End point detection
Polishing platens: Ø 460 mm or Ø 480 mm
Carriers for cut samples (10mmx10mm, quarter of 2" wafers,....)
Special carrier to fit with spécific needs
Special tool modification for specific process needs
Special configuration for polishing platens: Ø 615 mm
Water leak detection